In the News
Dunn Updates
and Careers
June 24, 2018
Believe in Evolution?
Structural Engineers have been around since we started stacking stones. Slowly, those who were more successful at stacking began to separate themselves from other novices and soon became increasingly more and more in demand. Each successive structure built became a model to defy the test of time. The effects of gravity were somewhat understood because of its constant downward force. Structures slowly began to defy the effects of gravity by utilizing physics to span greater distances and utilize beams to transfer these forces to columns. It was obvious that when a structure was overloaded because failure was almost instantaneous. Sufficient strengthening would be required.

All seemed well until other forces of nature tested these structures. These forces included high winds, earthquakes and soil saturation. Since these forces were relatively infrequent, design to resist these types of loads progressed rather slowly. The environment became our laboratory. It was always back to the drawing board to try some new idea. Some early engineers were actually put to death for making mistakes. Still there were some who wanted to reach new heights.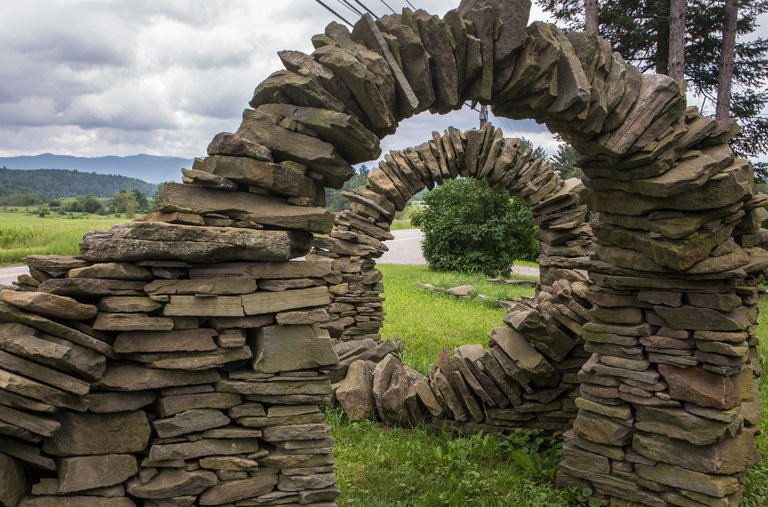 Freestanding helix stone sculpture by Thea Alvin
The world and its events continue to be our ever changing laboratory. We still continue to learn how materials react when exposed to different loading conditions. Every three years the building codes are modified to keep up with current analysis techniques, material properties and building methods. Fortunately if an engineer makes a mistake today it does not result in the same punishment as centuries ago!

Currently the structural engineering profession is competent in saving lives. The new frontier is the better protection of the buildings such that costly damage repair is mitigated. Currently building codes care very little about the structure itself, but rather focus on the life safety of the public at large. Green design must focus on the environmental impact of buildings that are damaged beyond repair. Few people want to discuss this financial impact of designing beyond life safety.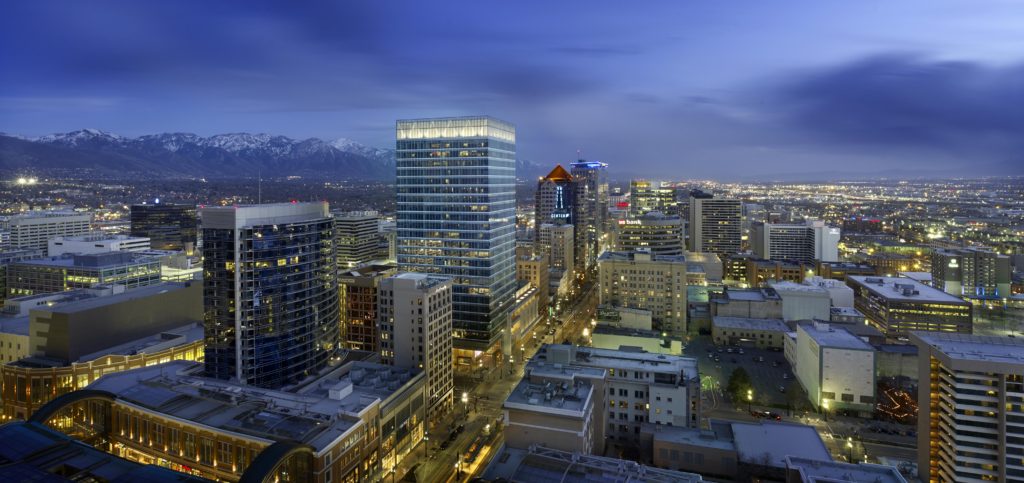 View of Downtown Salt Lake City, Utah, Photo: © Skidmore, Owings & Merrill LLP | Cesar Rubio, 2017. All rights reserved.
If the evolution curve of progress continues at the current rate, just imagine what is in store in the structural engineering profession. We will design and build buildings that will not need major repairs post-earthquake, we will understand that it is much more cost effective to spend 5%-10% more on the structural frame to mitigate potential damage from Mother Nature. Tenants will insist to rent safe space that can be immediately occupied after an earthquake. Imagine material that can self-heal itself when damaged, utilization of 3-D printing in structures, buildings that float, structures that automatically change shape and modular units that we cannot even imagine. Your mind can run wild when you place in perspective that we can and will continue to evolve our structural techniques in the future as we have in the past.
---
This article is part of a series written for The Enterprise news publication by Dunn Associates, Inc. owner and founder Ronald H. Dunn, SE. We know him as Ron 🙂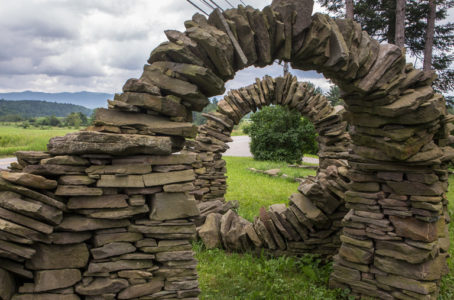 ---
Join Our Team!
---
Overview:
Dunn Associates, Inc. is growing strategically and looking for the best people.  As a leading structural engineering firm in the intermountain area for over 20 years, Dunn Associates continues to be involved with some of the best projects in the region. Exclusively focused on structures, we innovate, create and optimize unique structural solutions for our loyal public and private clients.
The successful candidate will first and foremost be required to have high personal skills while interacting with our clients. We are professional consultants and our attitudes and manors are of high importance. Interaction with design and administrative professionals within our office is expected.
Responsibilities:
STRATEGIC MARKETING PLAN – Continue to implement the overall strategic plan regarding Dunn Associates, Inc. and its marketing endeavors.
CLIENT RELATIONS – Work closely with principals, associates and others to foster and advance relationships with top clients and potential clients. Leverage a network of relationships with key decision-makers, primarily with owners, architects and contractors, to establish good will, share project leads and expand opportunities with the public sector clients.
PROPOSALS / QUALIFICATIONS – Respond to RFPs and RFQs, including requests by architects and contractors who are responding to RFPs and RFQs, develop the appropriate material to leverage Dunn Associates' qualifications in regard to the specified projects. Follow self-established and business development leads to track projects both prior to and following the submittal of Statements of Qualifications and Proposals.
DATABASE MANAGEMENT – Update information kept in company database (Cosential & Deltek Ajera), including contacts, projects, prospective projects and workload. Work closely with project managers and engineers to develop content for use on the website, in firm profiles, social media, and in RFPs and RFQs. Work with project managers and in-house photographer to acquire photos of current and past projects for use in marketing efforts.
PUBLIC RELATIONS – Develop opportunities with news and media organizations to promote Dunn Associates, Inc., its personnel, projects and other accomplishments. Create advertisements according to publication specifications, contract for the advertising space and track the results of advertising efforts. Update and upgrade company website as necessary and appropriate. Work closely with project managers to develop content for bi-weekly posts to news/blog page. Create consistent and meaningful content for social media to increase company exposure for client relations and staff recruiting efforts. Attend industry-related events. Prepare and submit industry-specific award opportunities for staff and projects.
ADMINISTRATIVE SUPPORT – As necessary, provide phone support and assist administrative staff in carrying out their assignments including professional licensing, staff recruiting and human resources, workload, and company-sponsored events.
Minimum Requirements:
Education—Bachelor's degree; qualified experience may substitute for college education.
A working knowledge of marketing-related softwares Adobe Creative Suite (InDesign, Photoshop, Illustrator), Microsoft Office are required. Experience with CRM (Cosential) and/or Deltek Ajera a plus.
Experience working in the construction or professional services industry.
Established rapport with key decision-makers in the construction industry, particularly architects and contractors would be added value.
Compensation/Benefits:
Compensation is very competitive and varies with experience. Dunn pays full medical for the employee and their dependents, covers full dental for the employee, life insurance policies, engages in 401k matching, contributes $2,000 annually to HSA (Health Savings Account), and gives generous PTO (including holiday and vacation days). Other perks to be discussed as the dialog progresses.
How to Apply:
Submit resume and cover letters to careers@dunn-se.com or submit through online form.
---
Do you think outside-the-box?
---
Dunn Associates, Inc. (DAI) is a full-service structural engineering firm specializing in both public and private clients. We believe in an upbeat work environment while providing our clients with cutting-edge design solutions that consistently exceed expectations.
We are currently looking for a highly motivated designer/drafter with great communication skills. At least two years of experience with Revit is preferred, but all commercial structural design candidates will be considered.
Dunn Associates, Inc. offers competitive pay and a full benefits package. Submit resume online or email to careers@dunn-se.com.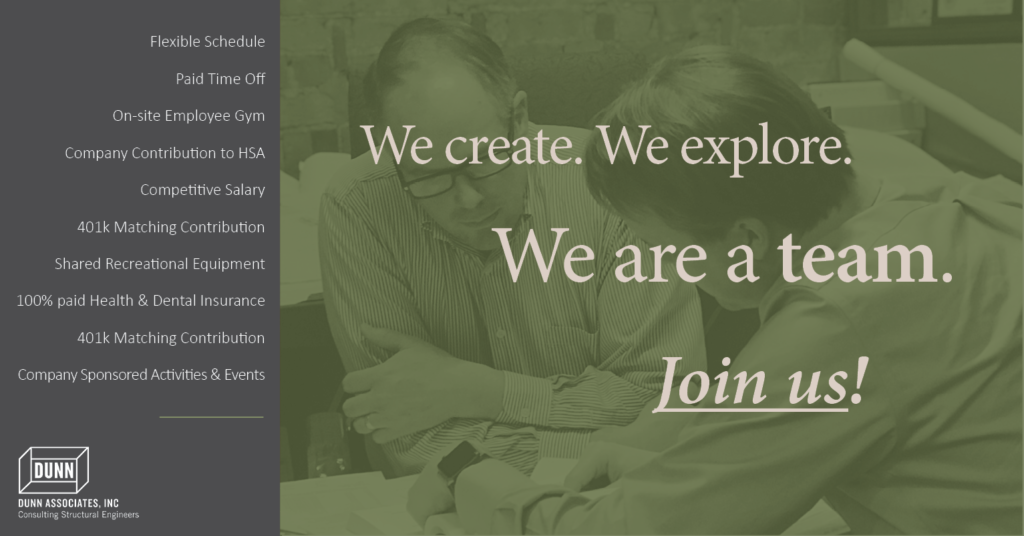 Instagram