In the News
Dunn Updates
and Careers
September 26, 2018
Building Blocks
The imagination of children playing in a sandbox is magical. Your sandbox may have been a carefully selected plot of dirt in your backyard. As children, we created, built, stacked and leaned material in a carefully selected arrangement. Kids play alone or with friends to make their projects unique and different each time. In many cases gathering additional materials from the garage or other household items is necessary to add the final touches to their creations. Children are also quick to observe why things don't work, don't stand up or how easily they are impacted by outside influences such as the yard sprinklers. They learn and get better each and every time they create their masterpieces.
For some, a sandbox or a patch of dirt may not have been the setting, but rather a room full of blocks, an erector set, a unique dollhouse design or even the limitless possibilities of a pencil and paper. We all have, at one time or another, spent time creating something.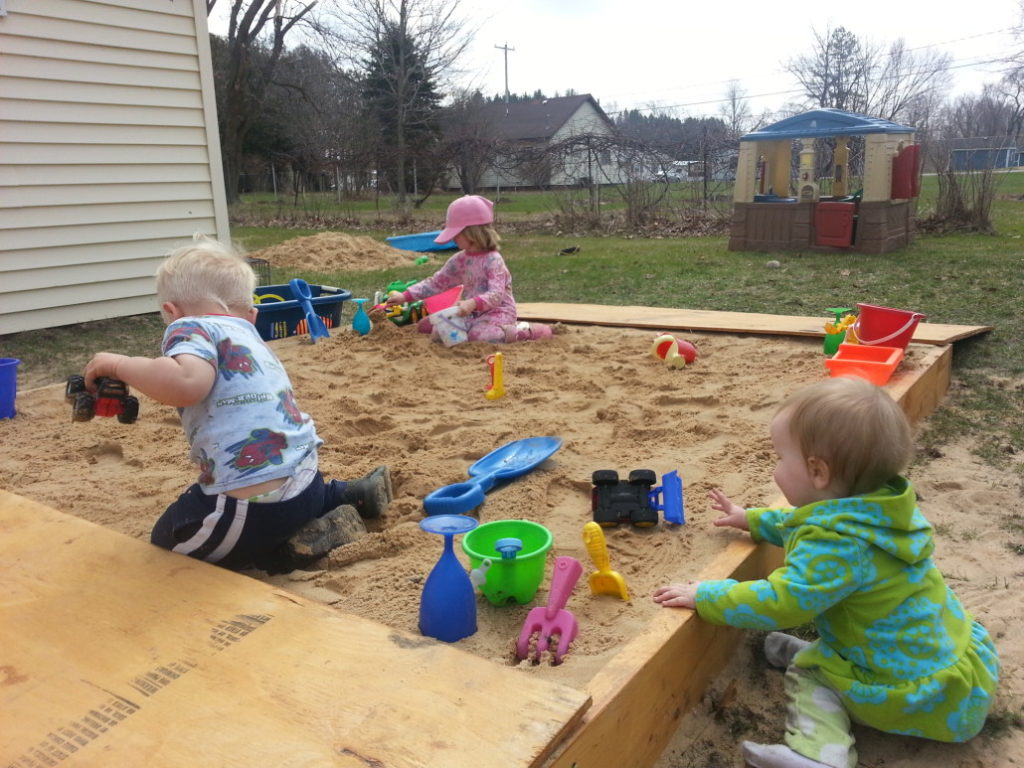 To a structural engineer, our sandbox just got a whole lot bigger! The imagination of a child continues to be our imagination as adults. We get to make things stand up, to make things tall, span great lengths, withstand outside forces and look cool! We are able to wake up in the morning and go out and see what we have done. We can experience the tangibility of what we do. We show our friends and children our creations. Like children, we too can become better each time we do it. There was never only one solution then, and so it is now.
We get to use all sorts of materials to accomplish these tasks, and it's amazing what different materials can do. Some materials are great in tension; some are really good in compression. A number of them are flexible, while others are stiff and brittle. Some materials are light and others are very heavy. Several are fairly inexpensive and some are not practical. Tremendous strides have taken place in material science, which gives the structural engineer many more options.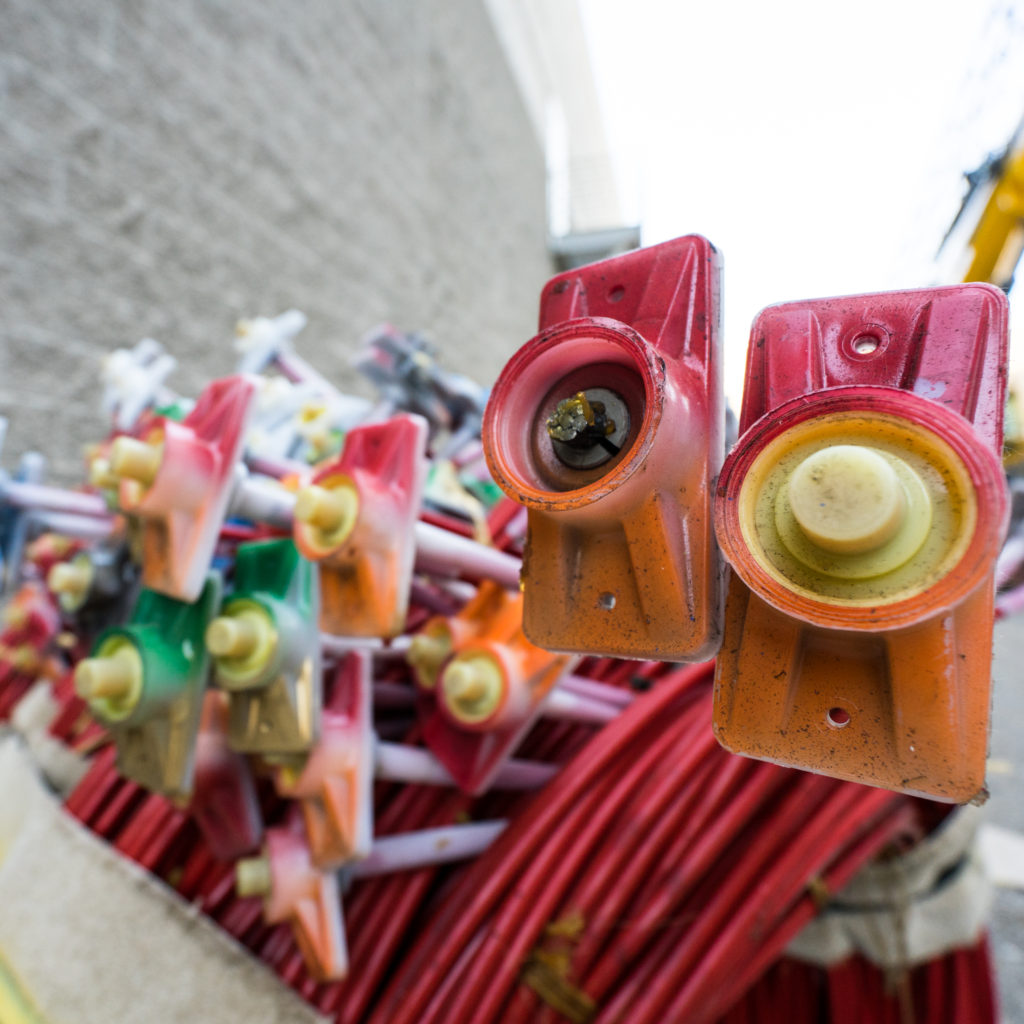 Math allows us to combine the properties of materials with identified loads to span distances, create volumes, support loads and withstand the forces of Mother Nature. Experience allows us to do this efficiently, economically, safely and in harmony with the other demands of the structure. Imagination allows us to be unlimited by our experience.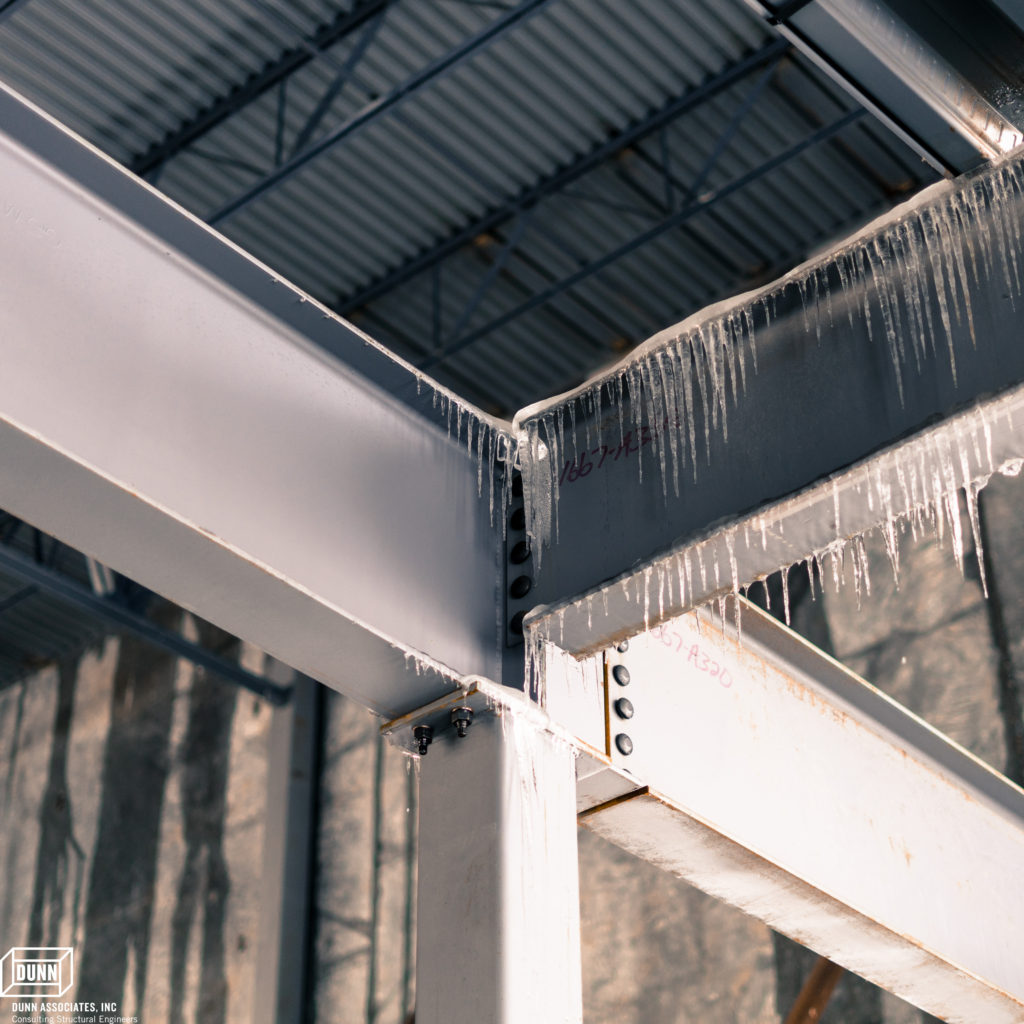 Look outside; it is amazing some of the accomplishments that structural engineers have achieved. Just imagine what progress the future holds if we as structural engineers share our knowledge and play in the sandbox with the next generation.
---
This article is part of a series written for The Enterprise news publication by Dunn Associates, Inc. owner and founder Ronald H. Dunn, SE. We know him as Ron 🙂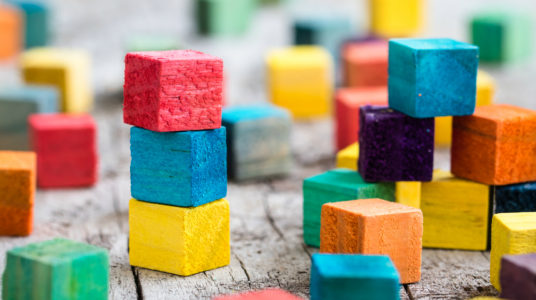 ---
Join Our Team!
---
Overview:
Dunn Associates, Inc. is growing strategically and looking for the best people.  As a leading structural engineering firm in the intermountain area for over 20 years, Dunn Associates continues to be involved with some of the best projects in the region. Exclusively focused on structures, we innovate, create and optimize unique structural solutions for our loyal public and private clients.
The successful candidate will first and foremost be required to have high personal skills while interacting with our clients. We are professional consultants and our attitudes and manors are of high importance. Interaction with design and administrative professionals within our office is expected.
Responsibilities:
STRATEGIC MARKETING PLAN – Continue to implement the overall strategic plan regarding Dunn Associates, Inc. and its marketing endeavors.
CLIENT RELATIONS – Work closely with principals, associates and others to foster and advance relationships with top clients and potential clients. Leverage a network of relationships with key decision-makers, primarily with owners, architects and contractors, to establish good will, share project leads and expand opportunities with the public sector clients.
PROPOSALS / QUALIFICATIONS – Respond to RFPs and RFQs, including requests by architects and contractors who are responding to RFPs and RFQs, develop the appropriate material to leverage Dunn Associates' qualifications in regard to the specified projects. Follow self-established and business development leads to track projects both prior to and following the submittal of Statements of Qualifications and Proposals.
DATABASE MANAGEMENT – Update information kept in company database (Cosential & Deltek Ajera), including contacts, projects, prospective projects and workload. Work closely with project managers and engineers to develop content for use on the website, in firm profiles, social media, and in RFPs and RFQs. Work with project managers and in-house photographer to acquire photos of current and past projects for use in marketing efforts.
PUBLIC RELATIONS – Develop opportunities with news and media organizations to promote Dunn Associates, Inc., its personnel, projects and other accomplishments. Create advertisements according to publication specifications, contract for the advertising space and track the results of advertising efforts. Update and upgrade company website as necessary and appropriate. Work closely with project managers to develop content for bi-weekly posts to news/blog page. Create consistent and meaningful content for social media to increase company exposure for client relations and staff recruiting efforts. Attend industry-related events. Prepare and submit industry-specific award opportunities for staff and projects.
ADMINISTRATIVE SUPPORT – As necessary, provide phone support and assist administrative staff in carrying out their assignments including professional licensing, staff recruiting and human resources, workload, and company-sponsored events.
Minimum Requirements:
Education—Bachelor's degree; qualified experience may substitute for college education.
A working knowledge of marketing-related softwares Adobe Creative Suite (InDesign, Photoshop, Illustrator), Microsoft Office are required. Experience with CRM (Cosential) and/or Deltek Ajera a plus.
Experience working in the construction or professional services industry.
Established rapport with key decision-makers in the construction industry, particularly architects and contractors would be added value.
Compensation/Benefits:
Compensation is very competitive and varies with experience. Dunn pays full medical for the employee and their dependents, covers full dental for the employee, life insurance policies, engages in 401k matching, contributes $2,000 annually to HSA (Health Savings Account), and gives generous PTO (including holiday and vacation days). Other perks to be discussed as the dialog progresses.
How to Apply:
Submit resume and cover letters to careers@dunn-se.com or submit through online form.
---
Do you think outside-the-box?
---
Dunn Associates, Inc. (DAI) is a full-service structural engineering firm specializing in both public and private clients. We believe in an upbeat work environment while providing our clients with cutting-edge design solutions that consistently exceed expectations.
We are currently looking for a highly motivated designer/drafter with great communication skills. At least two years of experience with Revit is preferred, but all commercial structural design candidates will be considered.
Dunn Associates, Inc. offers competitive pay and a full benefits package. Submit resume online or email to careers@dunn-se.com.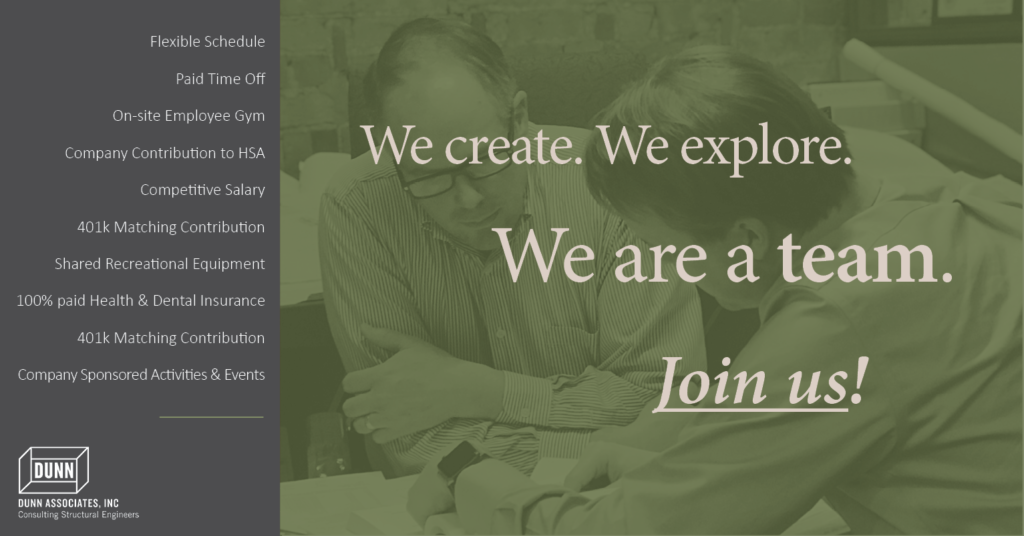 Instagram