In the News
Dunn Updates
and Careers
March 18, 2019
Dunn Associates, Inc. Announces New President
It is with great excitement that Dunn Associates, Inc. formally announces recent changes in leadership. Tait Ketcham has been promoted and will serve as President of Dunn Associates, Inc.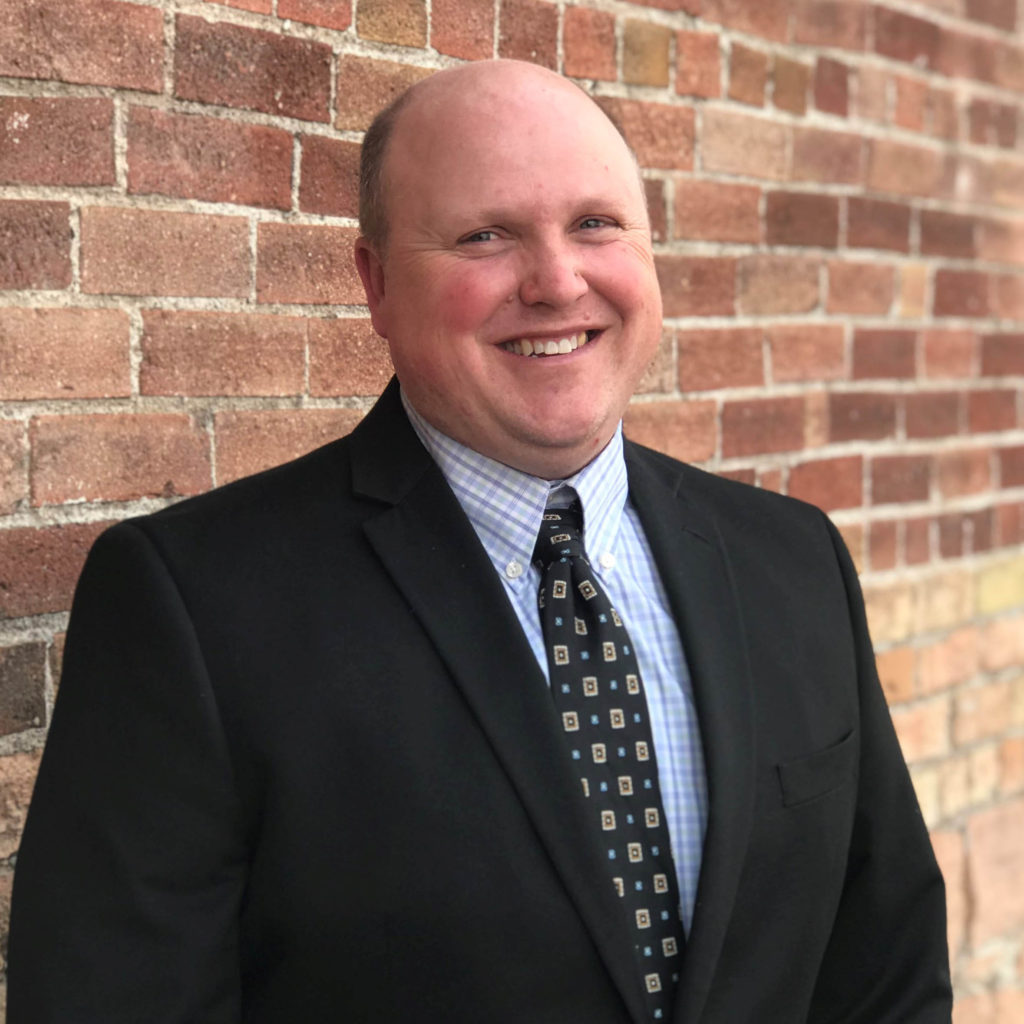 His first action was to re-write the President's role. "My passion is finding solutions to complex engineering questions and associating with our great clients. I will remain actively involved with projects and clients and not be bogged down with administrative paperwork." Therefore, moving forward Tait will continue to lead projects, manage other project managers and mentor younger engineers. Dunn Associates, Inc. is excited for this new change which clearly aligns with their core values. David Dunn, CEO, expressed to the staff that, "Tait is exactly what we need at this time."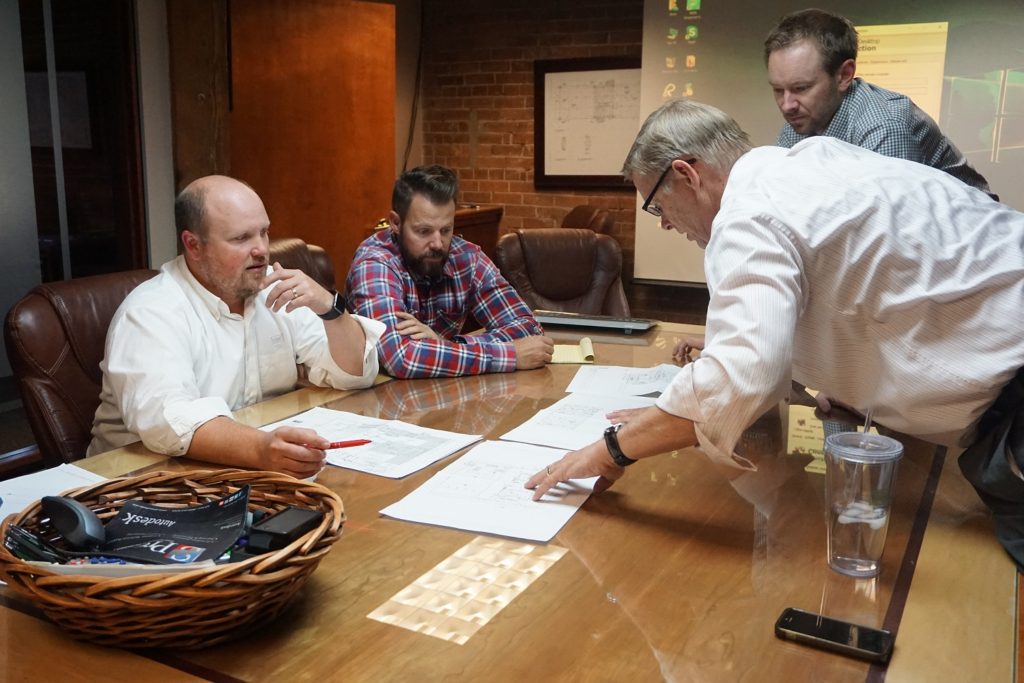 Tait joined Dunn Associates in 2003 and has been a Principal for the last eleven years. Some of Tait's recent accomplishments have been the involvement in the S.J. Quinney College of Law at the University of Utah, Fairbourne Station, One Empire Pass, Pendry Park City, Hale Centre Theatre, Draper City Recreation Center and the Utah State Correctional Facility.
U of U S.J. Quinney College of Law

West Valley Police HQ at Fairbourne Station

One Empire Pass

AC Marriott Hotel

Hale Centre Theatre
He is the current President of the Structural Engineers Association of Utah (SEAU), an organization whose primary goals are promote acquaintance and understanding among structural engineers, promote technical expertise, legislation and codes relating to structural engineering.
A Utah native, Tait has always had a passion for the outdoors and horseback riding. When he isn't engineering buildings, Tait devotes his time to his wife and kids, and the occasional pet horse.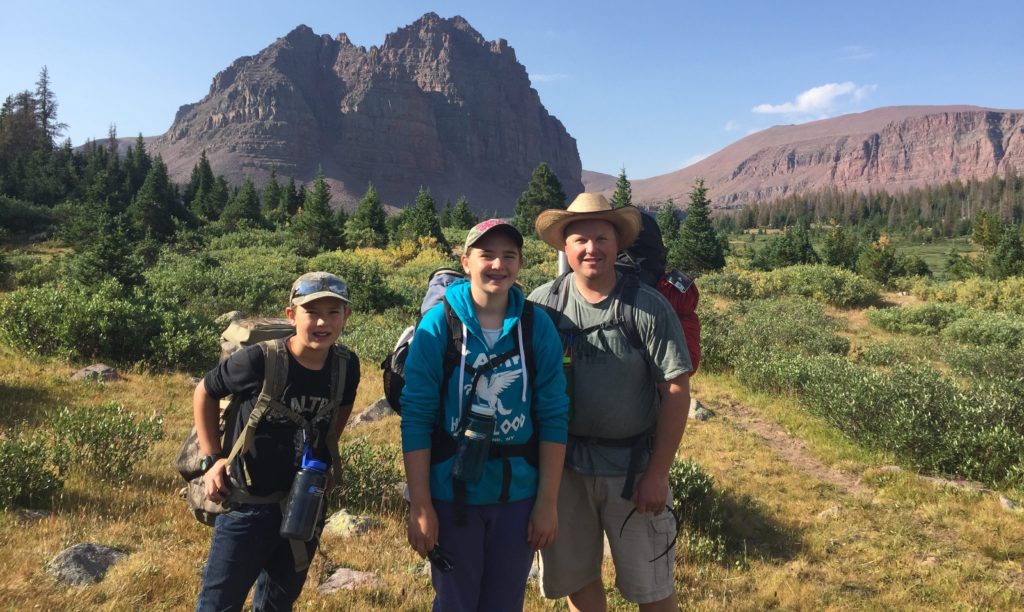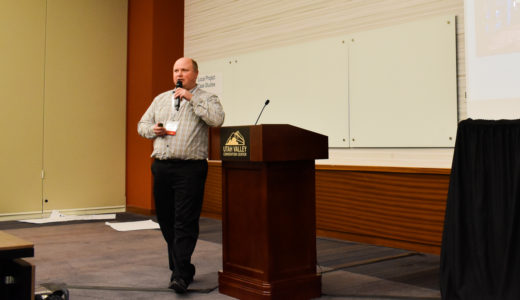 ---
Join Our Team!
---
Overview:
Dunn Associates, Inc. is growing strategically and looking for the best people.  As a leading structural engineering firm in the intermountain area for over 20 years, Dunn Associates continues to be involved with some of the best projects in the region. Exclusively focused on structures, we innovate, create and optimize unique structural solutions for our loyal public and private clients.
The successful candidate will first and foremost be required to have high personal skills while interacting with our clients. We are professional consultants and our attitudes and manors are of high importance. Interaction with design and administrative professionals within our office is expected.
Responsibilities:
STRATEGIC MARKETING PLAN – Continue to implement the overall strategic plan regarding Dunn Associates, Inc. and its marketing endeavors.
CLIENT RELATIONS – Work closely with principals, associates and others to foster and advance relationships with top clients and potential clients. Leverage a network of relationships with key decision-makers, primarily with owners, architects and contractors, to establish good will, share project leads and expand opportunities with the public sector clients.
PROPOSALS / QUALIFICATIONS – Respond to RFPs and RFQs, including requests by architects and contractors who are responding to RFPs and RFQs, develop the appropriate material to leverage Dunn Associates' qualifications in regard to the specified projects. Follow self-established and business development leads to track projects both prior to and following the submittal of Statements of Qualifications and Proposals.
DATABASE MANAGEMENT – Update information kept in company database (Cosential & Deltek Ajera), including contacts, projects, prospective projects and workload. Work closely with project managers and engineers to develop content for use on the website, in firm profiles, social media, and in RFPs and RFQs. Work with project managers and in-house photographer to acquire photos of current and past projects for use in marketing efforts.
PUBLIC RELATIONS – Develop opportunities with news and media organizations to promote Dunn Associates, Inc., its personnel, projects and other accomplishments. Create advertisements according to publication specifications, contract for the advertising space and track the results of advertising efforts. Update and upgrade company website as necessary and appropriate. Work closely with project managers to develop content for bi-weekly posts to news/blog page. Create consistent and meaningful content for social media to increase company exposure for client relations and staff recruiting efforts. Attend industry-related events. Prepare and submit industry-specific award opportunities for staff and projects.
ADMINISTRATIVE SUPPORT – As necessary, provide phone support and assist administrative staff in carrying out their assignments including professional licensing, staff recruiting and human resources, workload, and company-sponsored events.
Minimum Requirements:
Education—Bachelor's degree; qualified experience may substitute for college education.
A working knowledge of marketing-related softwares Adobe Creative Suite (InDesign, Photoshop, Illustrator), Microsoft Office are required. Experience with CRM (Cosential) and/or Deltek Ajera a plus.
Experience working in the construction or professional services industry.
Established rapport with key decision-makers in the construction industry, particularly architects and contractors would be added value.
Compensation/Benefits:
Compensation is very competitive and varies with experience. Dunn pays full medical for the employee and their dependents, covers full dental for the employee, life insurance policies, engages in 401k matching, contributes $2,000 annually to HSA (Health Savings Account), and gives generous PTO (including holiday and vacation days). Other perks to be discussed as the dialog progresses.
How to Apply:
Submit resume and cover letters to careers@dunn-se.com or submit through online form.
---
Do you think outside-the-box?
---
Dunn Associates, Inc. (DAI) is a full-service structural engineering firm specializing in both public and private clients. We believe in an upbeat work environment while providing our clients with cutting-edge design solutions that consistently exceed expectations.
We are currently looking for a highly motivated designer/drafter with great communication skills. At least two years of experience with Revit is preferred, but all commercial structural design candidates will be considered.
Dunn Associates, Inc. offers competitive pay and a full benefits package. Submit resume online or email to careers@dunn-se.com.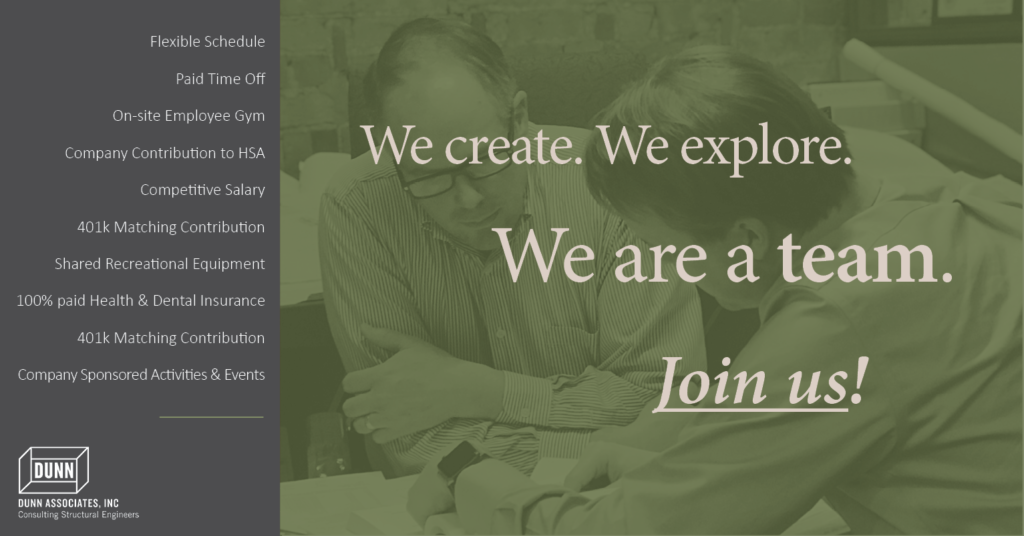 Instagram